A highlight – in the true sense of the word
Overlay print illuminates transparent surfaces
The play with light has fascinated people since time immemorial. Even the ancient Romans, for example, made specific use of indirect lighting to create a particular ambience in every room. Time and again throughout the history of design, people have been fascinated by backlit surfaces
Needless to say, this includes also Schattdecor ­ – find out how our transparent overlay print products put shops, bars or hotel lobbies in perspective.
---
Transparency for modern projects
Overlay print creates very special highlights in every room. Our digitally printed, transparent product creates countless new options in designing modern living, working and housing spaces.
Backlit or classic on wood-based material, our printed overlay creates visually sophisticated and particularly aesthetic highlights that individually enhance our customers' products. However, the fact that we developed the process at all ... well, this story started in autumn 2018 at the Italian trade fair, Sicam. Traditionally, numerous trade visitors from all over the world meet there every year.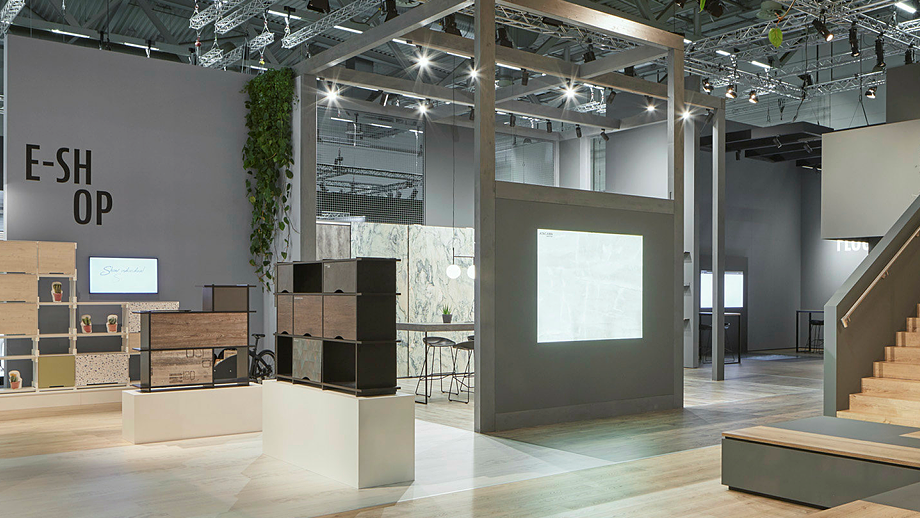 A customer who has been a valued customer for many years visited us at our stand, and contacted our sales team managed by Andreas Bruckbauer with a request: He wanted to know whether we could actually do "something transparent". To make it clear what he had in mind, he showed us samples of backlit surfaces.
One thing is getting under way
We understood his idea and promised him to delve deeper into the matter.
Once our sales team returned from the trade fair, they began intensively researching the subject. However, we only came across several attempts from the past to produce industrial surfaces that are transparent and backlightable, but didn't really catch on. Until then, our industry didn't have the technical capabilities
to successfully bring our customer's idea into being. Even our own attempts before then hadn't been entirely successful.
There were limited possibilities with Gravure printing had. Colors would run. Transitions were not as high-contrast as we needed them to be. Additionally, wrinkling on the carrier material posed unsolvable challenges at that time.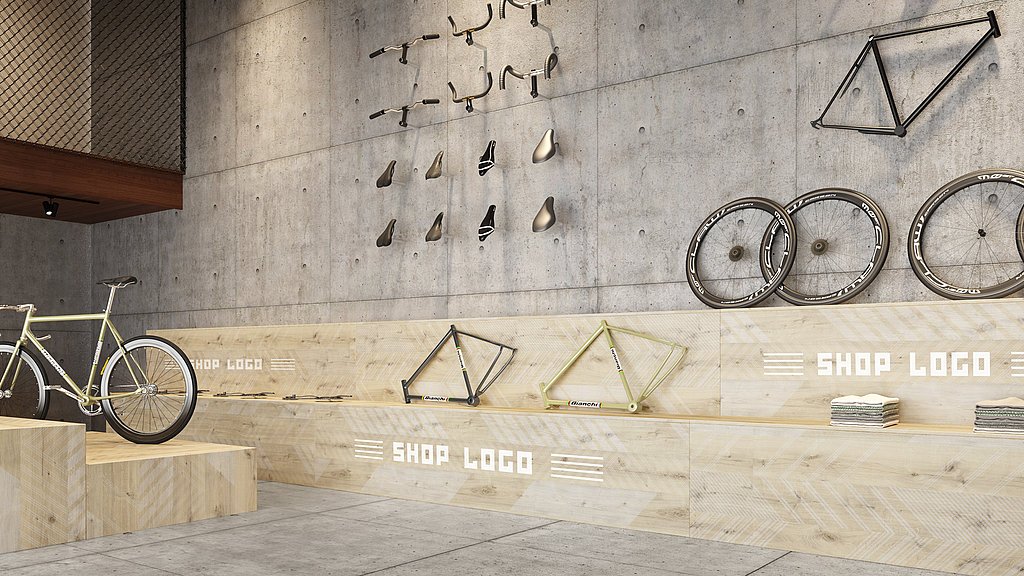 But this is now changing fundamentally with our still relatively new digitally printed overlay. Our high-tech PALIS 2250 digital printing system with globally unmatched printing capabilities, allowed us to develop fundamentally new, creative and productive ways of thinking, proving us right to try again.
No sooner said than done
Against the backdrop of all these favorable conditions, our teams under Ralf Peschl, Impregnation Manager, and Andi Wagner, Sample Department Team Leader, together with colleagues Michael Stuffer and Martin Maurer, developed initial ideas and also a very precise and practical approach as to how to achieve our goal. Fortunately, it was possible to produce a laboratory sample at the very first attempt, but the design didn't yet quite match the desired result.
Nevertheless, our "overlay print" task force was technically and creatively on the right track with these pilot tests. In order to compensate for the abnormal material behavior, our colleagues in the sampling department tinkered with the structure, press, temperature and time parameters, and finally created the new, backlit, transparent "overlay print". This created a product that can be used universally and be processed using our customers' standard processes.
Overlay print, please enter stage!
At the Interzum trade fair in May 2019, Schattdecor and Gentas presented our latest product to the world – our Atacama decor printed on backlit overlay. What's more, until today, Gentas also bought the Belize, Etrusco and Luna decors.
Overlay print also received increasing approval at the SICAM trade fair in October 2019. We presented the Himalaya decor at our stand as a backlit overlay, and it was particularly well received by our Brazilian customers.
At the Euroshop trade fair in 2020, we then presented some usable furniture for the first time in cooperation with Gentas as well as with our neighbor at the Thansau headquarters, the local acrylic glass manufacturer Schön-Acryl from Flintsbach.
By combining our overlay print with acrylic glass, we were able to backlight the cube all around and present our "Cristallo" decor. Its huge area of application proves – in addition to its potential use as a wall panel – for the first time, completely new, creative opportunities in the furniture sector.
Our Brazilian customer Pertech successfully also presented our Atacama decor at the Expo Revestir in Sao Paulo.
Transparency!
In hotel lobbies, for example, our product replaces valuable natural resources such as onyx stone simply and cost-effectively – and consequently still delivers a high-quality premium look with a real stone feel.
However, "transparency" doesn't always have to mean just "stone". Theoretically, we can print all Schattdecor decors on overlay. For example, floral motifs such as our "Miraflores" can be represented particularly well. With our digital printing process, customers benefit from endless creative options, large, repetition-free repeats and harmonious print images.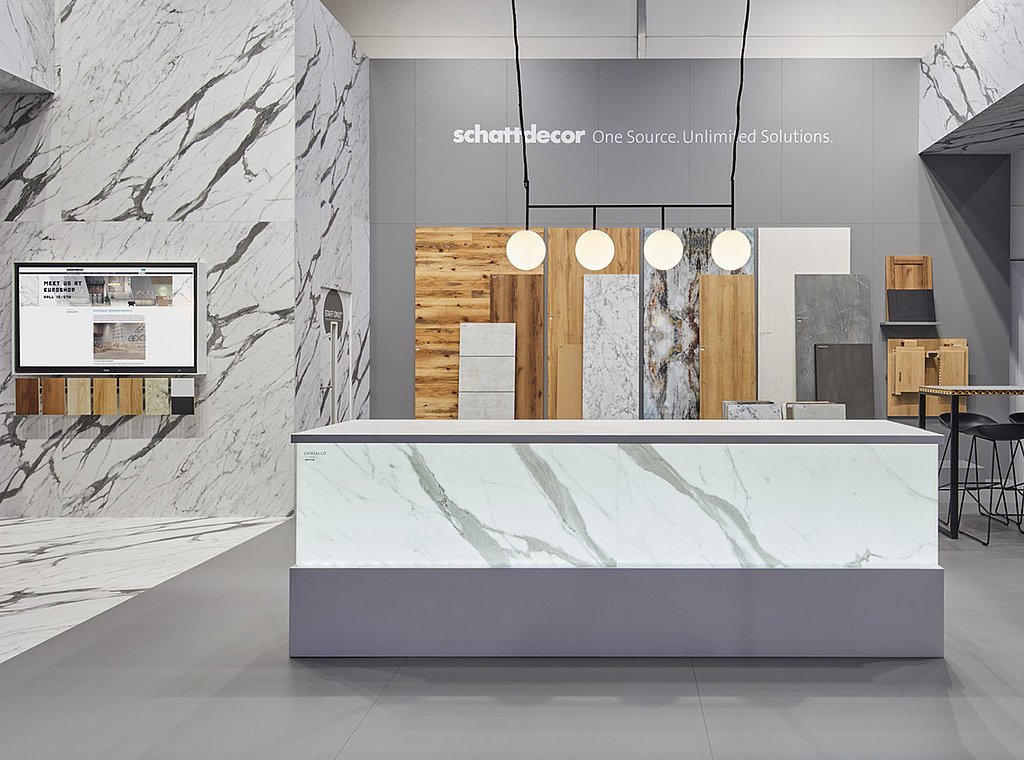 Colorful trumps all
Backlit or classic on wood-based material – depending on requirements or area of application, we can develop a tailor-made product solution in close cooperation with our customers.
Our successful decors using overlay print
Atacama
Etrusco
Belize
Luna
Oriental Brown
Overlay print inspired
Overlay print enables us to inject industry fresh design variations industry, and have the potential to provide a great new market from the outset. The possibilities are endless: Customers can creatively vary their own products using overlay print and even develop them from scratch. We're only beginning to see the possibilities, and look forward to leading customers into a bright future with overlay print.