Inside Out – Outside In
How being outside influences our living space.
Lately, a lot of people have been spending time out in the open air, in the countryside and in public spaces, more so than they have done in the past. Manuela Hollerbach has been a designer at Schattdecor for 17 years. During her research, she came across a double trend around the newfound desire to be outside: living is increasingly moving outdoors, while design for the outdoors is also taking over home interiors.
This is also backed up by our in-house trend observations. Living room decors inspired by nature such as "Garden Oak", "Sahara" and "Kalamos" are keeping with the spirit of the times and work splendidly with fresh green tones.
More and more people are being drawn outside. Living space that is becoming increasingly scarce, especially in sought after city centers, is favoring the "outdoor homing" trend.
At the same time, creative outdoor dining cultures are establishing themselves in New York and in many other cities around the world, which - as the residents hope - will permanently enhance the city experience.
Wherever you look, life in the open air is becoming a prevalent way of life. From now on, living space no longer ends at the borders of your own four walls, but extends far beyond that.
Staycation! At home in the garden
In many places, the lifestyle trend is shaping imaginative new ways for living in the home and beyond. Urban gardening is growing into a veritable green citizens' revolution. Countless properties that are currently being upgraded with balconies are the proof of this.
"Staycation", however, is the vacation where one prefers to spend time at home instead of traveling: balconies, terraces and gardens therefore become relaxing retreats. Activities that previously took place inside are simply being outsourced to green spaces. Because with your own outdoor area you are able to gain so much freedom.
Green is the thing!
The garden is then transformed into an outdoor living room and equipment follows demand: designers transfer indoor living comforts to the open air. Right away you can spend your free time sitting on relaxing, weatherproof lounge furniture under awnings. Robust, weather-resistant cushions snuggle into spacious sofa landscapes. Special lamps and lighting concepts help set the scene and create a sense of airy outdoor well-being under the stars.
Outside in - from outside back inside
It's no wonder that a lifestyle that people have quickly grown in love with does not stop at the patio door. As soon as people return to the house, they already miss the feeling of freedom that they have come to appreciate outside. And that's why they simply take the colors, the decors and the look that they have discovered for themselves in the newly designed outdoor areas with them into their own four walls.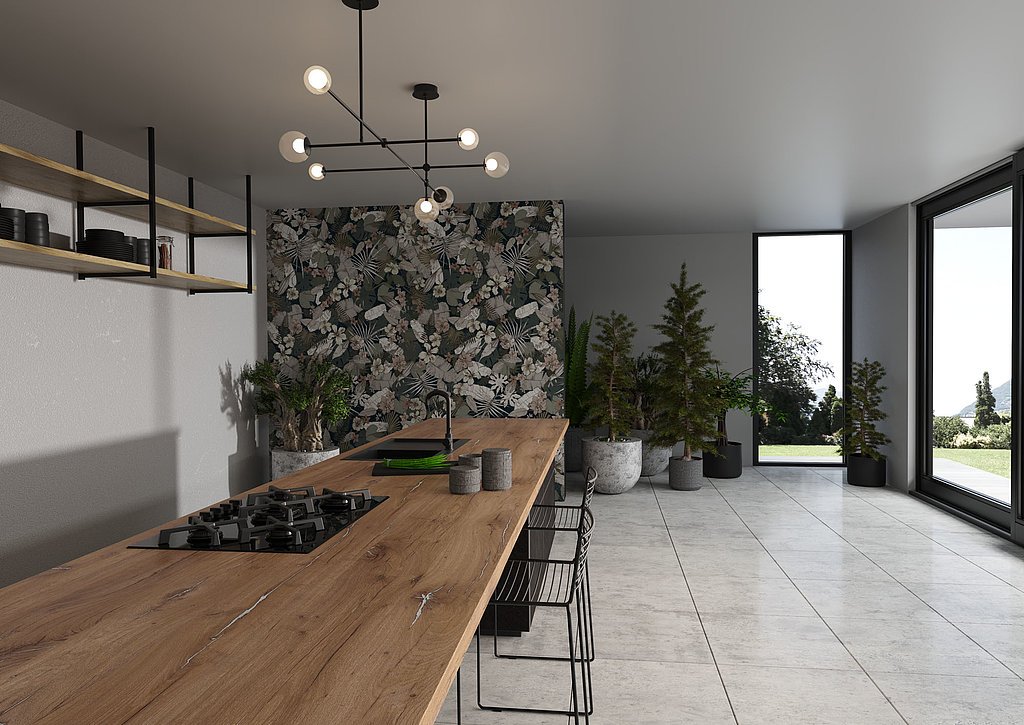 Objects, concepts and stylistic devices that were once strictly reserved for the garden are suddenly becoming welcome also inside the home. Vertical plant walls improve the air and the oxygen content in rooms. Mini greenhouses encourage hobby gardeners to grow herbs and vegetables in the kitchen.
Modularity, compact interior dimensions and multifunctional design also support the trend. Furniture and objects are becoming hybrid and mobile - resplendent wherever they are.
"At Schattdecor we want to support the new trend and bring that outdoor feeling into the living space. For this, we recommend the color green in combination with other earthy, natural colors. This color palette directly from nature has a calming effect on us. It reminds us of all those beautiful moments that we have experienced outside. Our decors, for example Garden Oak, Kalamos oder Sahara, reflect this naturalness and complement each other perfectly with real plants or textile decors. Dark green fronts or tiles for the kitchen, rich dark green corduroy or velvet textiles for living spaces, muted sage green for the sleeping spaces. In addition, natural decors such as wood, raffia, rattan or linen, as well as metal or stone decors - for me these are the perfect elements to bring the outdoor living trend indoors."
Manuela Hollerbach | Design
Schattdecor Thansau