The Top 6 Trends for Kitchen Mile 2021
The homing trend carries with it the longing for hominess and security
We are currently seeing a significant boom in the kitchen industry. This is because in the 2020/2021 crisis, many people had to put their way of life to the test, and adjusted everyday routines and made their home the center of their lives. They paid particular attention to beautifying their home - and especially the kitchen.
The Outlook for 2022 and the Top 6 Kitchen Trends
Kitchen Mile is the world's largest kitchen trade fair for trade and industry and will take place from September 18 to 24, 2021. On the occasion of this highlight event, we would like to look ahead to shed light on the most visible kitchen trends in Germany. It is interesting that several of them were created in the past, but they will continue to accompany us in the near future.

Which trends will accompany us into the future?
The desire for security is currently navigating many people through their design preferences. That is why we are currently seeing warm colors strengthening. Their tones are intensely inspired by the experience of nature. Sand tones or warm wood tones take care of us with the good feeling of naturalness.
In addition, authentic material reproductions in stone and metal are in demand. We have a special focus on exceptional effects. Basic colors or individual color combinations are trending in beige, blue-gray, Cotto or earth tones. More colorful, dark plains and powdery nuances are in. There are now also new trendy accent colors such as forest green, olive, royal green, reed or sage.
Matt surfaces and anti-fingerprint
A few years ago, the focus was on high-gloss fronts, but more and more matt versions followed with velvet matt, silk matt, satin matt. They are still a trend today. This means that anti-fingerprint finishing is also on the rise. In addition, surface structures that are modeled on the original materials in an extremely realistic way play a major role. This does not necessarily have to be done synchronously and always appear more prominent and deeper. Attractive, universal and now more natural, very authentic haptics are due to the current zeitgeist.
Top-Highlight 1: Karlstad Oak & Firestone
The longing for a feeling of security and hominess is particularly evident in the new kitchen design for 2022, which we are presenting in two room scenes using our top decor highlights. Authenticity, warmth and elegant naturalness are the basic positions in the center of these new kitchen trend surfaces.
Multi-faceted veins and an intensely colored, finely marbled stone texture in the FIRESTONE decor offer exciting combination options for oak decors such as KARLSTAD OAK. The new hominess is created through fine coordination with warm color nuances, through lively natural stone reproductions and through the selection of solid wood decors with faithful details.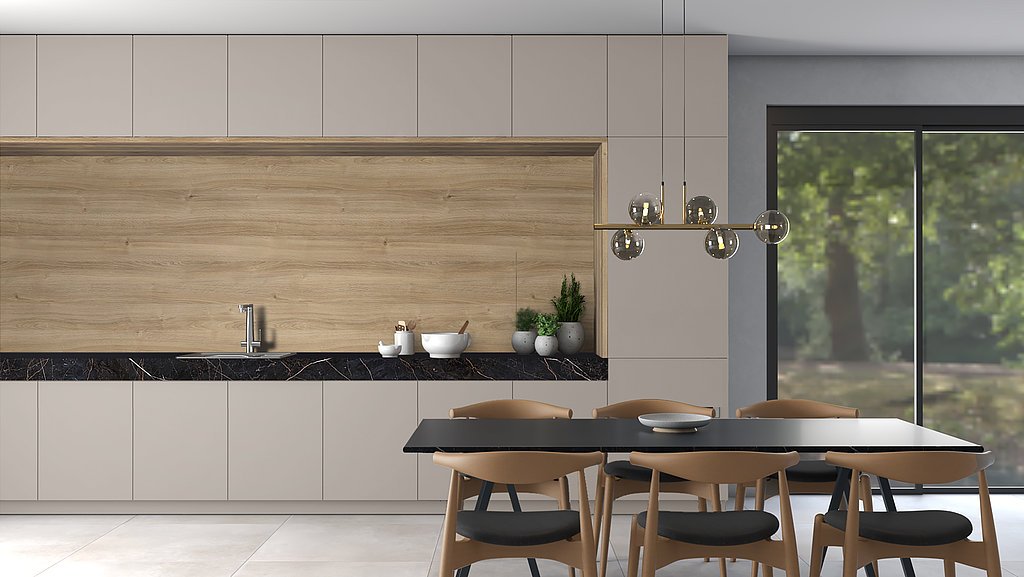 Top-Highlight 2: Flagstaff Oak & Valongo
Integrated metallic effects, as implemented in these two decors, show an absolutely hip decor trend for 2022. The wood of Flagstaff Oak has a handcrafted character and polished tin inclusions. The slate decor Valongo impresses with its noble elegance and is reminiscent of mica. Timeless room design with gray plain surfaces for a high-quality ambience!
---
Top trend #1 – Matt black and decor trends
The "matt black" theme is in vogue and has been extremely dominant in the kitchen industry for a long time. Matt black fittings, sinks, fittings or plain surfaces create the basis for an elegant, high-quality kitchen ambience. At Schattdecor, we presented the topic for the first time in preparation for Interzum 2015, and in our 2015/16 Trend Book we also focused on this lifestyle theme that emerged at the time. To this day it has lost none of its topicality and is booming in exhibitions and at trade fairs.
This strong kitchen trend contrasts warm woods with matt black.
Matt black creates particularly appealing contrasts when juxtaposed with rustic cracks and knots: the DELANO OAK decor continues this theme in a sophisticated way and enables an exciting symbiosis with black.
The distinctive structure of cracked oak is harmoniously combined with anthracite-colored stone - it looks really nice in our GREYSTONE and PIETRA CASPIO decors.
---
Top trend #2 – Oak decors
The oak trend is also maintaining a stable course. Our highlight decor SONOMA OAK, launched in 2011, for example, has been leading the Schattdecor collection as a bestselling decor since 2013. The exceptional character of this successful decor is composed of a rough sawn surface and a rustic 3D structure with the typical pore structures of oak wood.
The RIVIERA OAK has a very natural appearance. Its harmonious overall picture shows many details that are very typical for oak. Pronounced silver grain and medullary rays, streaky and floral areas alternate and create a subtle plank pattern. The Riviera Oak works in both classic and modern kitchens. In the kitchen segment, it has established itself as one of our highlight decors since 2016, especially in honey color. Beautiful harmonies result here with the TORANO stone decor in classic black and white marbling.
The success of decor creations with pronounced rusticity and many details and cracks typical of wood is significant. Our WATERFORD OAK unfolds its honest authenticity in connection with matching surface structures.
---
The use of stone on kitchen worktops has always enjoyed great popularity. Recently, stone decors - such as the quartzite-veined TERAMO, our terrazzo look MAREMMA or the KALAHARI processed with a fine 3D layer look - have also been skillfully staged in flat applications, for example on kitchen fronts or cooking islands. The symbiosis of stone decor and effect pigments is particularly exciting. This means that the GRAY CASPIO decor connects with the future. This trend of large-scale applications has been strong since 2019.
---
Top trend #4 – Metal decors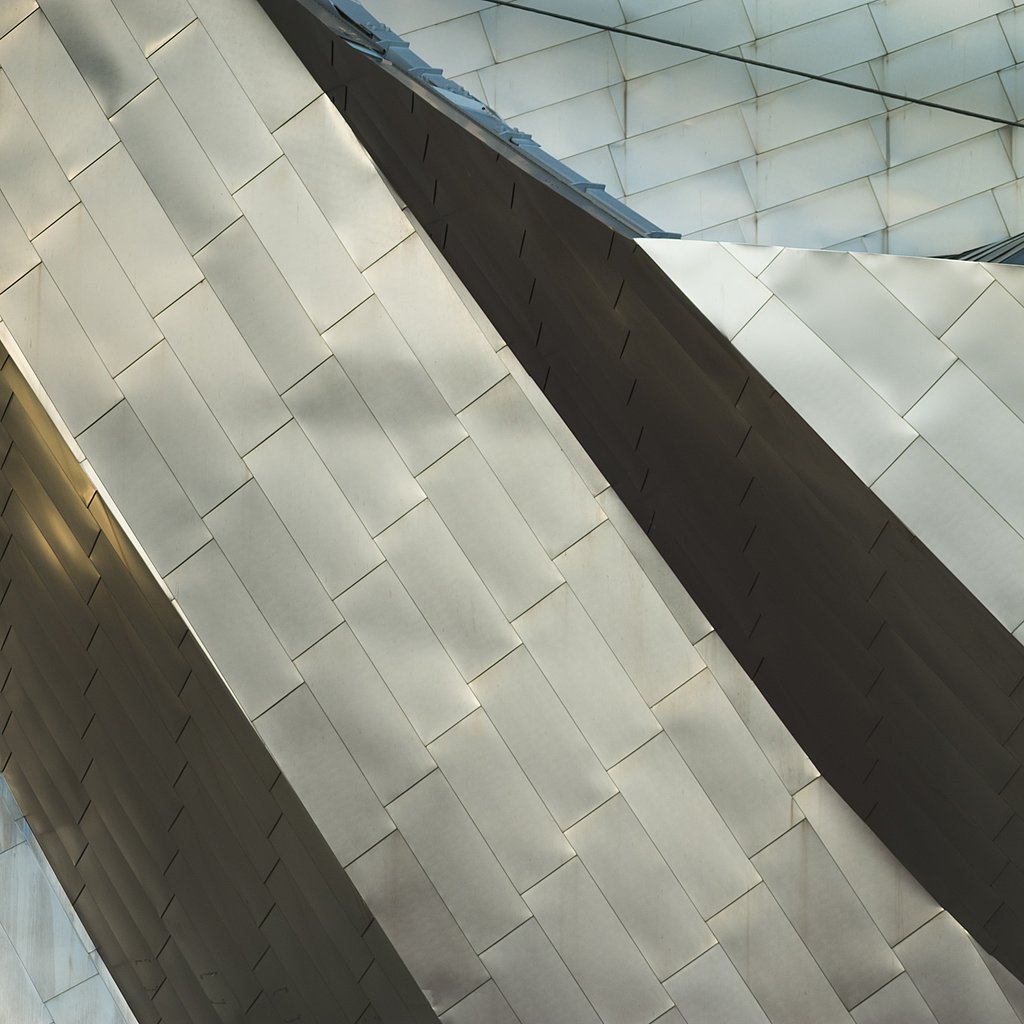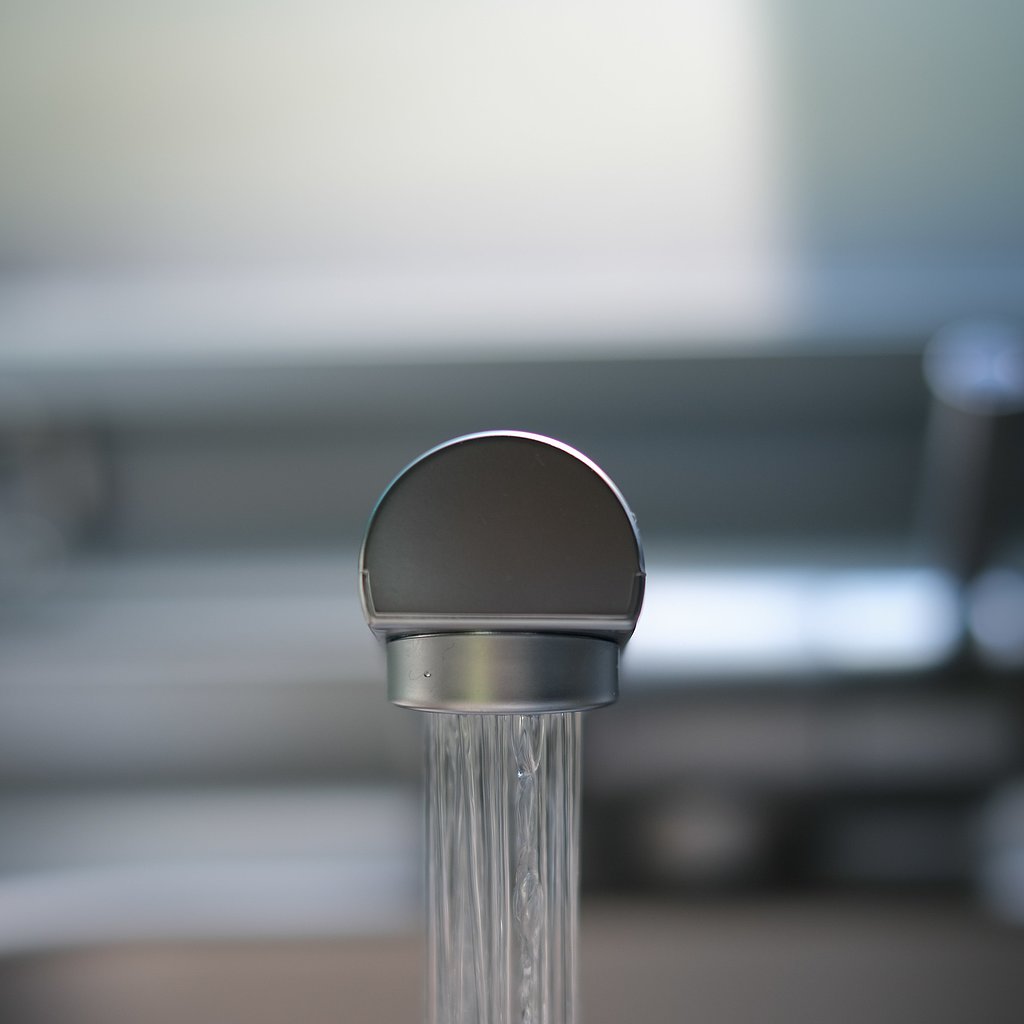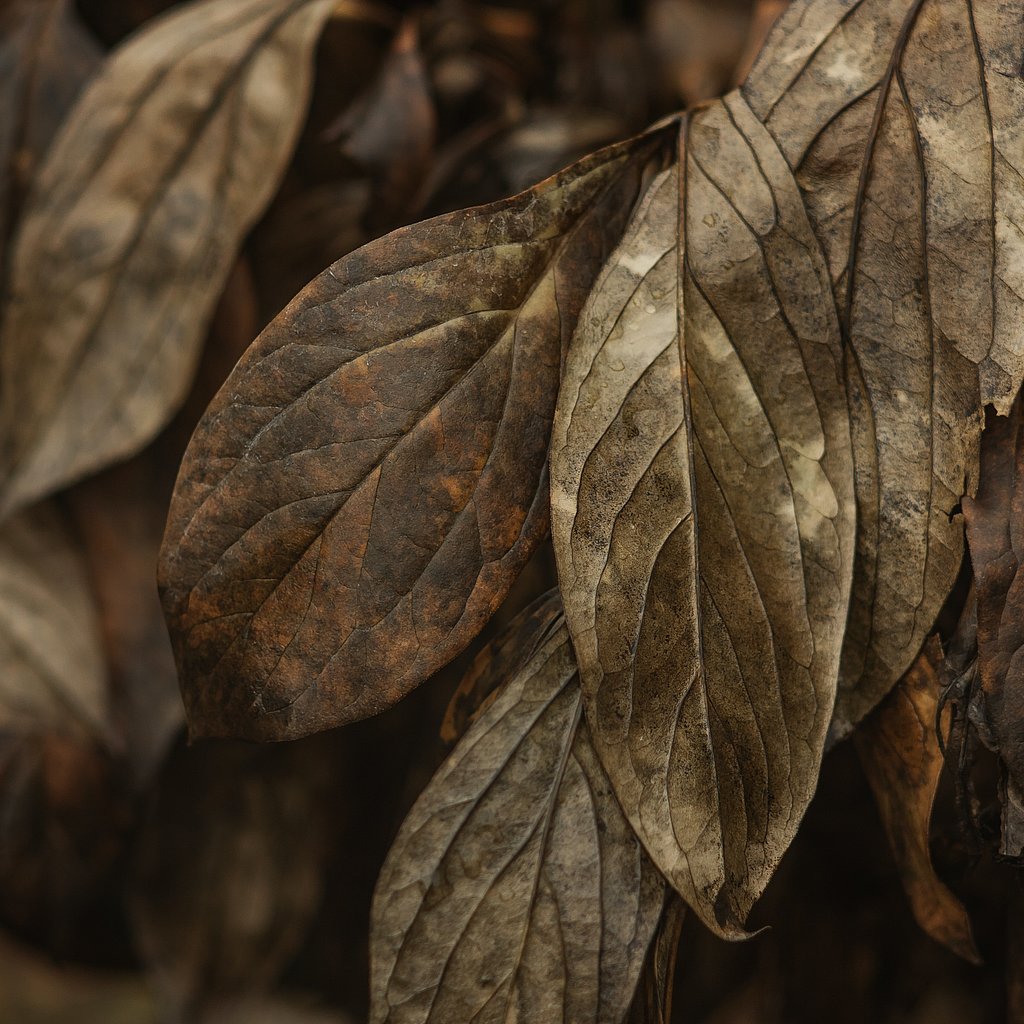 Metal decors are timeless classics. The black steel look of RAW STEEL has been an indispensable part of the kitchen market since 2017 and impresses with its calm, anthracite-black colorations. The decor has attracted attention in many kitchen exhibitions, both with a matt and a high-gloss surface. The decoration with bronze-colored fittings or brass in accessories creates special accents.
Brushed metal surfaces, for example with a stainless steel look, are other important metal decor options. FLASH bundles its metallic character with mother-of-pearl effect in a harmonious overall picture and also has a very authentic material effect.
---
Top trend #5 – Decors in concrete and cement look
Concrete or cement structures remain popular thanks to their simple combinability with expressive woods and plain surfaces. The following Schattdecor variants can be used universally. They are tried and tested in trendy kitchen designs and offer many interesting colors:
The MOON surface seems to have been worked on with spatula and mortar and shows fine irregularities. This makes the decor extremely versatile.
MAUI combines a plaster filler look with fine textile fragments, which is exactly what makes it so interesting for universal use in the kitchen area.
BLAUSTEIN places natural elements in an otherwise very homogeneous structure. In this way, Bluestone can represent very different things and be both concrete and plain, as well as subtle natural stone.
---
Plain-colored surfaces have also been part of German kitchens for decades. After the big White trend around 2008, however, the plain trends have developed significantly to this day. The 2008 white - with more and more differentiation and nuances such as polar white, arctic white or alpine white - initially turned into a gray trend. Then anthracite and finally black boomed. This orientation towards dark kitchen furnishings was evident in its beginnings in 2015. The solid color palette is still enjoying success in the kitchen segment today: stone, slate, papyrus or silk gray as well as quartz, lava or onyx are very topical colors.
As the latest trend, we are now also seeing more colorful, warmer nuances in the ocher, brown or green areas, as well as pastel tones. Spot colors and fashion colors have changed from partly bright plain colors to accent colors in blue-gray variants or earthy colors, such as curry or brown nuances, and open up a harmonious, feel-good color spectrum.
Kitchen Living Worlds 2022 - the current trends
The FIBER microstructure with its universal white-gray is typical of off-white tones. For trendy combinations, we recommend three shades from the color palettes of the Mallory, Paris and Massimo decors:
1. MALLORY decor structure with a soft, natural shade of green. Mallory's simple yet refined striped look is uncomplicated to use and, with its highly topical shade of green, ensures harmony in the living area.
2. PARIS trend decor in fine, fresh curry yellow. The authentic, delicate textile structure of Paris scores as a curry-colored surface in seating niches.
3. MASSIMO textile structure with natural, earthy nuances in a subdued rust tone. Generous, subtle diamond ornaments in the Massimo decor loosen up plain surfaces and provide particularly natural-looking accents for integrated seating areas and wall panels.