Modern living designs in a small space
Ideas for the future of the city
Do you live in the city? Was it easy for you to find an apartment you wanted? Did you have to make compromises in terms of living space and rent? Schattdecor designers Teresa Kaseder and Tanja Aicher have been on the lookout for practical solutions for how people can live in a small space.
Living in the city
Living in a big city has numerous advantages. For example, many people expect a better quality of life. The high availability of supplies, employment and training opportunities makes cities even more attractive.
Finding an apartment, on the other hand, is becoming increasingly difficult. Urban living space has long been scarce and expensive, because cities and large cities around the world are growing rapidly.
According to the 2020 report Cities in the World: A New Perspective on Urbanization, the number of urban dwellers worldwide has increased from 1.5 to 3.5 billion people in recent decades. By 2050, more than five billion people are expected to live in cities.
Megacities such as Tokyo, Delhi and Shanghai already have more than 30 million inhabitants – and the trend is rising!
As a result, almost every city – regardless of population – faces problems of overcrowding and housing shortages.
The Schattdecor designers Teresa Kaseder and Tanja Aicher present cutting-edge design approaches for living in small and tiny spaces in the city. Have a look!
Maximum requirements, tiny solutions
Urbanization is and will remain a trend that, according to all statistics, cannot be reversed. No, not even because of a pandemic. By the way, it is also true that a pandemic has multiplied the challenges many people have with regard to their home: Depending on our life situation, we and our homes have had to have extreme flexibility lately in order to master new situations such as working from home and/or home schooling.
Architects and interior designers are looking for practical approaches to mitigate this. Small space solutions with multifunctional equipment are ideal. They offer new strategies for everyone, from single people to large families, to be able to live well in the city even in just a few square meters.
---
"It is not very easy to furnish flats with a small floor plan in a nice and comfortable way. The corona virus has significantly changed the demands on your own four walls. Small living spaces have had to meet a large number of new requirements and become the primary place of residence. Activities such as work, fitness, meeting friends or family have shifted from public areas into the living space. The smaller the apartment, the more difficult it is to fit everything in the available space."
Teresa Kaseder
designer at Schattdecor Germany
---
---
Requirements change with the people who live there
The wishes of the residents are as different as the residents themselves and should ideally change with them over the years. In other words: living space and furniture should adapt to people – and not the other way around. This is the only way our home can become a relaxing retreat that supports our existence in a flexible and uncomplicated manner.
For many years, my partner and I shared a space comprising of 35 square meters. So I know the challenges that come with it. A lack of storage space or a lack of retreat options are just a few of the issues that need to be addressed. Not everyone can build a new house in order to design their living space in such a way that it meets their needs.
Tanja Aicher, designer
Schattdecor Germany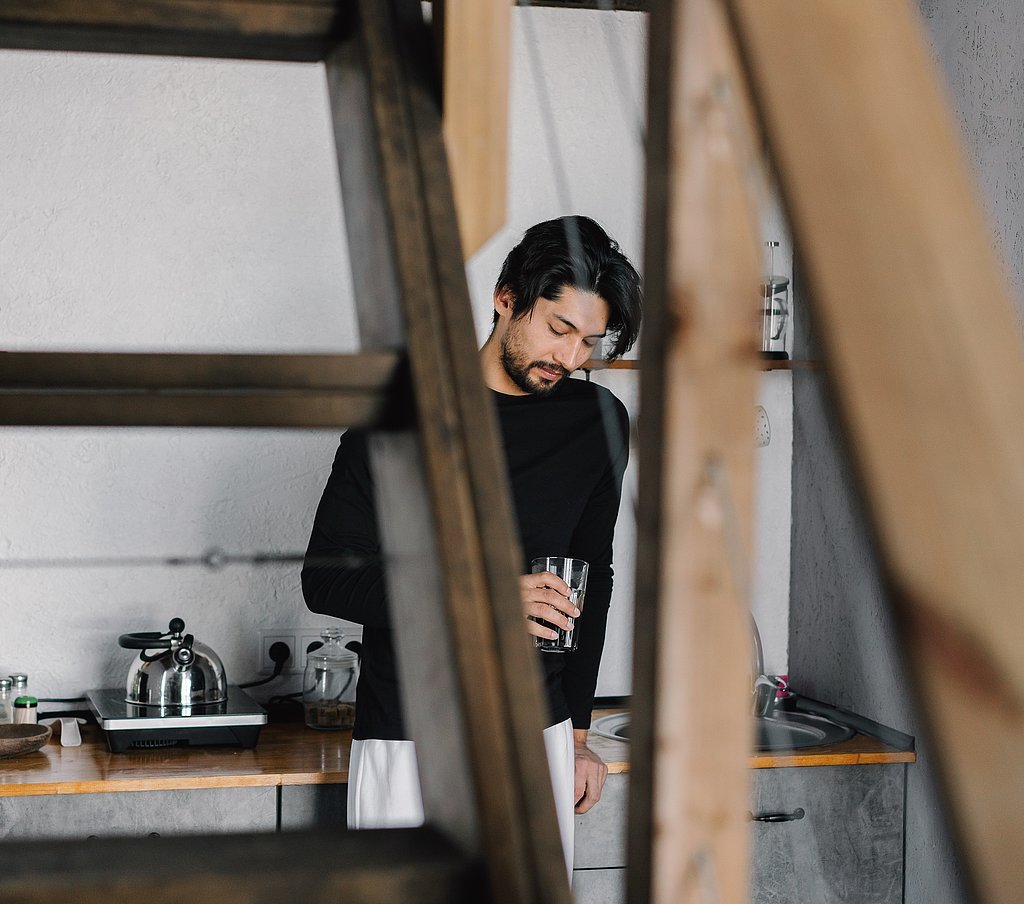 Tiny Kitchens
Every problem can also be understood as an invitation to create new ideas and solutions. Intelligent furniture design and smart solutions are the answers to how maximum comfort can be achieved in a small space. For example, the kitchen unit can be transformed into a workplace or a dining table in a simple movement. Particularly important: Making optimal use of the room height to integrate modern storage space solutions!
Structured dining room
With well thought-out furnishings and good color selection you can achieve some pleasing effects in the dining room. "Less" is "more" even in such busy living areas. Multifunctional, simple, elegant furniture proves to be sustainable and space-saving: providing structured surfaces, separate individual living room zones, can be used flexibly and redesigns the feeling of living. In combination with earthy red and brown tones, the feeling of coziness is created.
Practical sliding doors
Nowadays, private and professional endeavors often take place in one and the same place. This development creates the need for clear separation. With simple sliding walls or the use of screens, rooms have a defined structure and support our desire to retreat.
Light, striped wood decors such as Gran Sasso Chestnut are suitable for large room dividers. Natural structures such as rattan can also be used here. They provide the living area with naturalness and a handcrafted look.
---
Material and color
The choice of material and color worlds play an important role in interior design. We can use them to influence the perception of space and create a cozy and inviting atmosphere.
Light, cool colors (e.g., light green or shades of blue) are ideal for small living spaces because they make the room appear larger. Classic white or off-white tones on the walls and ceiling calm the environment and set the stage for the interior in the room.
A small room can quickly appear overloaded or cluttered. To make it appear lighter and larger, keep to a single color theme. Color-coordinated ceilings, furniture and floors create harmony and simplicity.
Decor can be a versatile product and enlivens the living space. It appears on the furniture, in the floor, on the doors or in the wall coverings. A harmonious concept and the interplay of color and material are crucial here.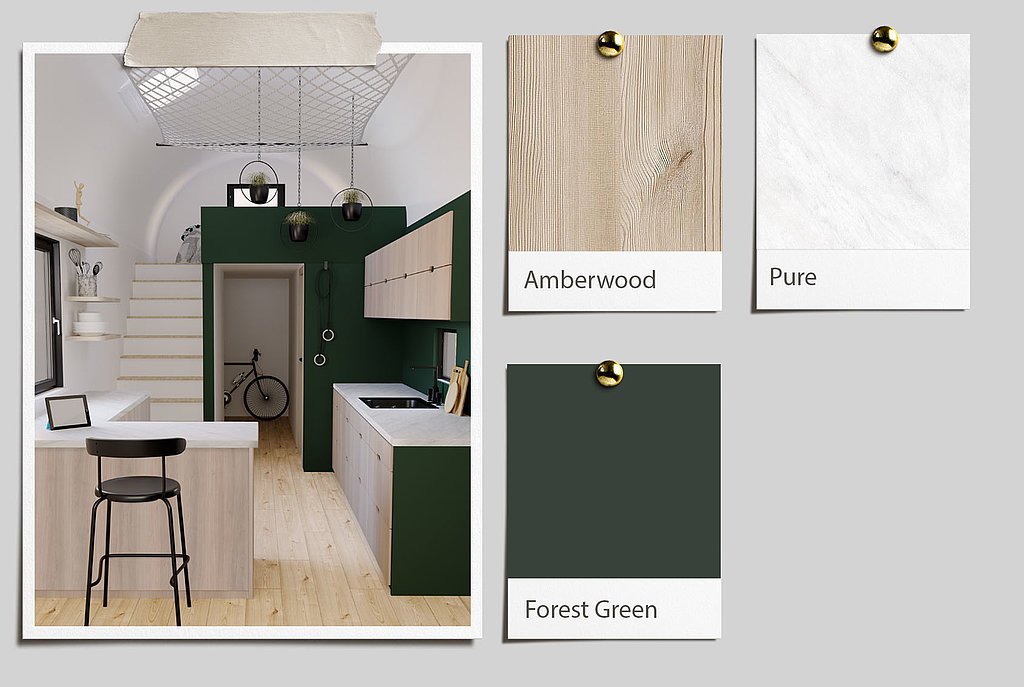 Combinations of wood and stone are timeless and bring the look of nature into the home. This can best be explained by looking at the furnishing trends Hygge or Japandi. Here the Japanese and Scandinavian style of furnishing are mixed - reduced and minimalist, but still cozy and natural.
And we don't even have to give up our favorite color. When used in a reduced manner, very personal touches may be incorporated in the living room.
Material combinations are also recommended for tiny bathrooms: natural stone combined with natural oak results in a harmonious, truly high-quality composition. For example, the Kalahari stone decor: its light quartz veins give the surface beautiful optical depth. And thanks to its versatile structure, the Karlstad Oak decor has an almost three-dimensional appearance. In combination, they give the room a spacious effect.
A special atmosphere arises from the contrast between wood and textile. In the sleeping area you want naturalness, coziness and warmth. The large layout format of Magnolia works ideally in combination with the Paris textile decor. We associate both materials with an environment in which one immediately feels at home and welcome.
Anyone who wants to make a statement in their décor choices should consciously use geometric or graphic shapes. Spaciousness in the layout counts here, but so does a delicate color scheme. Like the Golden Veins decor, for example: Its homogeneous structure is perfect for small rooms. Its golden joints provide extraordinary accents.
A sophisticated effect can often only be seen up close in its calm, small-scale structures. A closer look reveals details and patina. While from further away, one perceives the effect as a homogeneous color surface.