Pordenone , 07.11.2021
A changing world
At SICAM 2021 we experienced a spirit of optimism
In October we presented our current trend concept "Resilient Habitats: A feeling of security through flexible living spaces" at SICAM in norther Italy. We showed changeable, modular concept ideas for living, working and public space. We focused on multi-functionality as well as the design of areas for retreat. A natural living atmosphere and an authentic feel are in the foreground with this perspective. Get to know our most popular SICAM decors!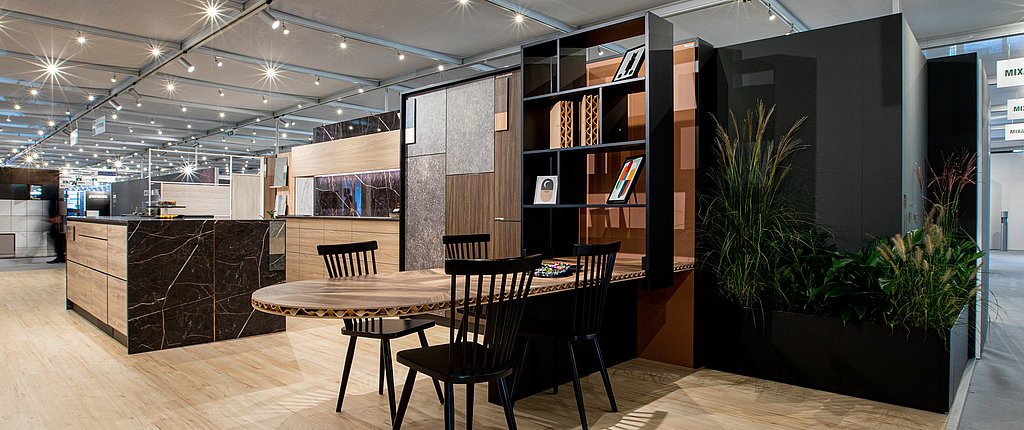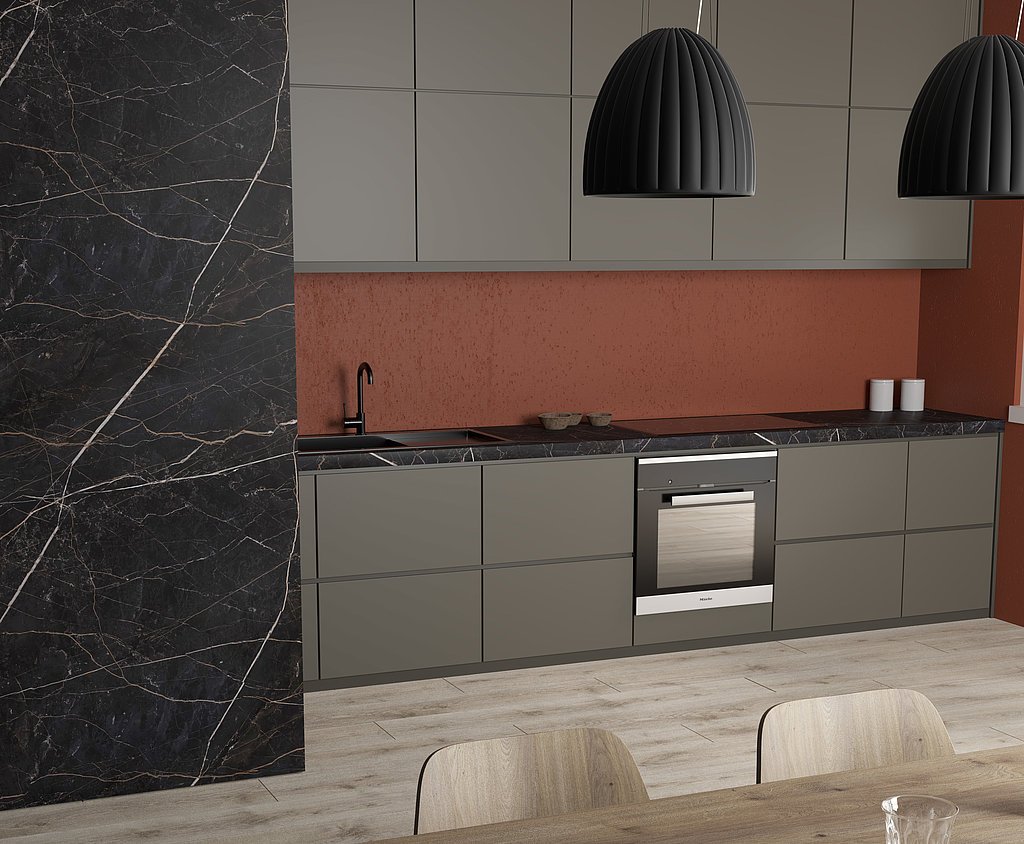 Innovation is in demand now more than ever. In mid-October we were at SICAM in Pordenone, northern Italy, and were able to experience first-hand just how wonderfully changeable the world is at this very moment. Flexible, multifunctional concepts are emerging as exciting future topics and reflect the changes that have actually been experienced over the past two years.
Our trend assessment from this spring, indicating that furniture, architecture, and decors would develop in a soft, pleasing direction was spot on. In fact, we see how boundaries are disappearing within living space design. Hard contrasts are passé. Instead, there is a particular demand for clearly defined, intuitively understandable zones for rest, for time together, for work and for life.
Natural, authentic-looking decors are finding their way into living zones, working zones and public zones. And something especially nice: the kitchen is once again playing an important role in many people's lives.
Decors that are now needed at home, at work and in public spaces
The very best news first: The centrally located kitchen with a dining area has recently become more important than ever to so many people. At SICAM it was clear to us that it is the center of life and the favorite meeting place of families, friends and living communities.

Calm and community
In general, the limits of living space design are disappearing: open, transparent design now creates zones for rest and relaxation, for socializing and community or for concentrated work in integrated working areas.
Home office and new workplace approaches
Solutions are urgently needed for home office and new workplace approaches. In other words, the world is finally ready for newly considered, digital, mobile workplaces where multi-flexible and variable interior design is essential.
Seen at SICAM: highlight decors for the here and now
At SICAM it was confirmed for us that the questions of what we people really need now, how we want to live today, and what residential and living spaces currently need to offer truly affect everyone.
What individual areas currently need to offer
Our current surface decors combine to reveal a newly considered rustic feel. This fine originality comes from our SICAM decors without noticeable cracks, knotholes or distinctive "quartz" veins. The zeitgeist calls for "remarkably calm", particularly natural surfaces - the history of their origins can and should be seen. Their detailed compositions radiate honesty, and in the material they embody self-confidence without appearing intrusive. The balanced composition of sophisticated, contemporary details creates character and charisma.
So! Here are our trend and material recommendations recently confirmed at SICAM.
#1 Making a statement: Firestone marble decor
Impulsive, exciting, exotic: Our black marble, Firestone (14-54196-001), was used as a show stopper in our kitchen block and it quickly became the central point of our booth. Its original material comes from Morocco; striking veins colored in ocher run through the subtle structure crossing Firestone's black and gray base and leaving deep traces upon it. The overall affect is that the decor seems to pulsate, a bit like liquid lava. The large-scale layout reflects the diversity of the original material.
#2 You can always rely on Karlstad Oak
Oak is a material that people can rely on even in turbulent times. Our solid wood imitation Karlstad Oak (14-10107-005) impresses with its sustainable design as well as its fine composition and a natural 3D effect. For SICAM, we launched a new color scheme for the decor – a welcoming rustic feel that attracted an especially large number of visitors.
#3 Surprise: Gran Sasso Chestnut
We found particularly valuable confirmation when the SICAM audience shared our enthusiasm for Gran Sasso Chestnut (14-12025-001): the fine, two-dimensional wood decor looks restrained, but still exudes a noticeably noble atmosphere in interiors. We were both surprised and delighted that we received so much clearly worded approval for its subtle design.
# 4 Amazement included: Valongo
Slate is born from clay or volcanic ash. We found the original material for our two-dimensional slate decor, Valongo (14-54031-005) in the Portuguese region of the same name, an area typical for being home tothis type of rock. Its homogeneous, well-balanced surface allows for a wide range of uses and combinations. Our SICAM visitors widely preferred one specific option: by using additional cylinders, Valongo may be accentuated with silver or bronze effects. A decor which amazes!
# 5 The beauty of reclaimed wood: Flagstaff Oak
After its success at the "interzum @home 2021", the lively, old-wood look of Flagstaff Oak (14-10778-001) has become an indispensable part of the industry. Visually effective silver-accentuated cracks give the oak decor its unmistakable character. It can be cleverly combined as a furniture decor. At SICAM we recommended Flagstaff Oak for the design of working areas and also brought a new color to the tradeshow.
Welcome: sustainable designs
We were also able to collect positive feedback for numerous of our other easy-to-combine decors. There was a demand for two-dimensional sustainable designs that prove to be durable, flexible and support modularity. Our new Oceanside (14-54205-001) stone decor is the successor to our Pure (14-54192-001) decor and gets right to the heart of this requirement. The homogeneous, natural surface of Pietra Piasentina (14-54074-001) looks like real stone. Its fine structures are also very easy to combine. Cascade (14-57161-001), on the other hand, is the perfect decorative hybrid made of textile and stone structure and looks very classy in dark colors.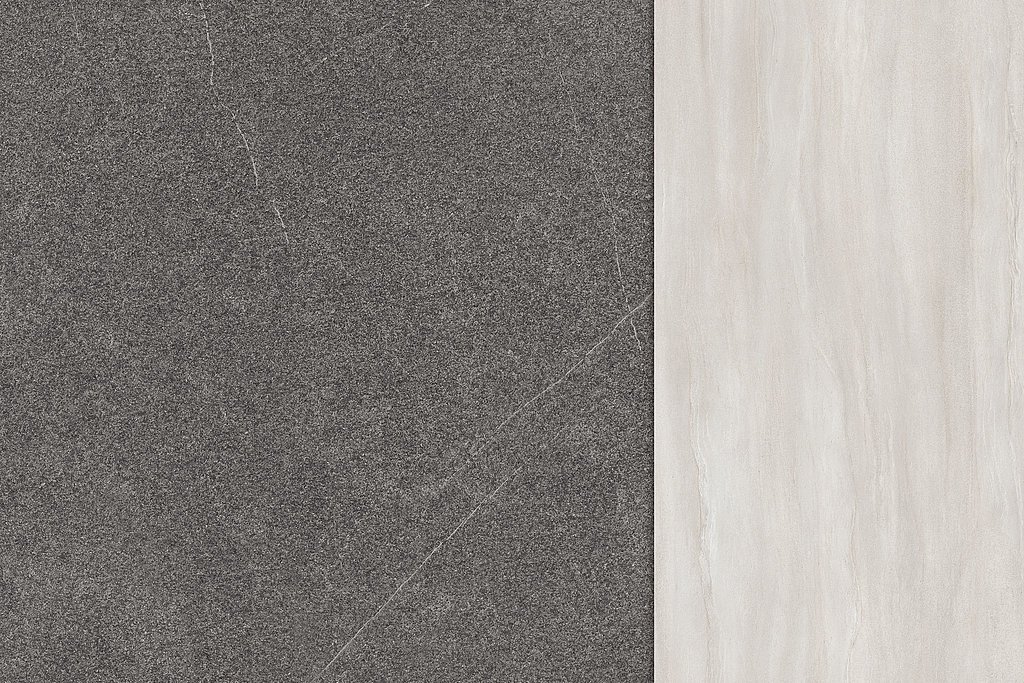 People want to get together again - that is the strong and exuberant message of SICAM 2021. We are attracted by a particularly natural, durable and sustainable materiality in design. It should help us to feel at ease in the room, and support modularity and timeless identification. The world is changing - and we are ready to change with it.